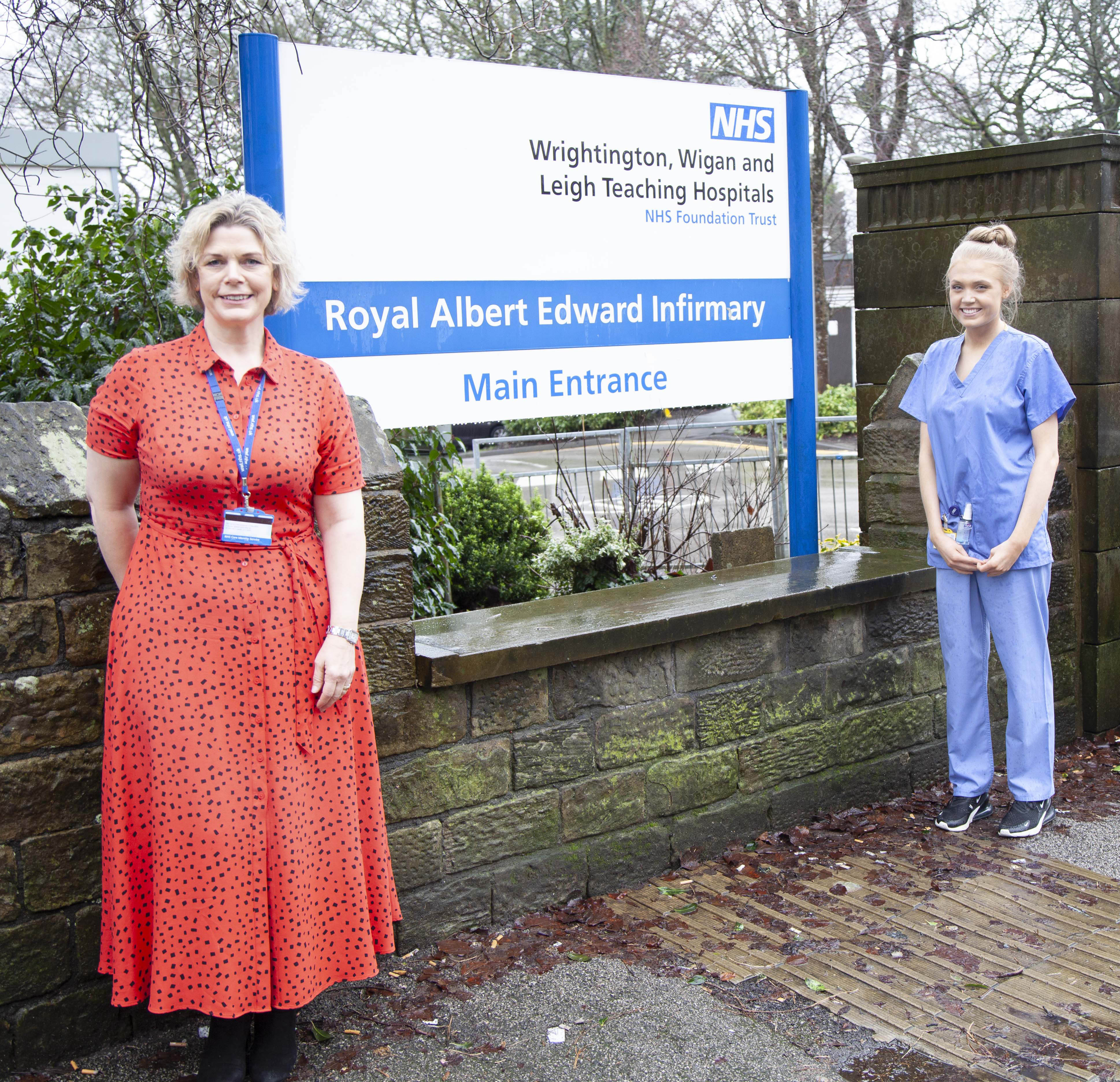 Working in the NHS can be challenging, especially during a global pandemic, but this hasn't stopped 18-year-old, Emily Ball from volunteering at Wrightington, Wigan and Leigh Teaching Hospitals NHS Foundation Trust.
A full time student, Emily, from Hesketh Bank, studies Level 3 Health and Social Care at Runshaw College in Lancashire. She wants to get stuck in, not only to understand the environment in a busy hospital and the working life of a healthcare team, but to provide critical assistance to staff who are working at maximum capacity in the most testing of times.
The 18-year-old is fortunate to be linked to Wigan Infirmary. Her mother, Rachel, has been working at the Trust for 25 years in the Pharmacy Department.
"I am very proud of my daughter," Rachel began.

"I'm so glad she is making a difference to lives, albeit little steps. Emily has always wanted to be a midwife in the NHS, she has a caring nature and a passion to fulfil this career, but I want her to understand how challenging and hard this profession is."
Emily has volunteered at the Trust before, as part of her work experience with college. She knew she wanted to come back, so she was over the moon when WWL's volunteering team contacted her.
"I started volunteering at the start of this year. Initially, I was helping the house keepers on the ward, making drinks, handing out breakfast and lunch, and sitting talking to patients.
"I was asked to support patients by helping them video call their loved ones, using the iPads provided by the Trust." mentioned Emily.
Emily sadly lost her Grandma during the first lockdown back in 2020, meaning she stepped up and became her Grandad's carer after helping them both with shopping and other household duties.
""I have always wanted to be a midwife and I can see my future in the NHS. I am very passionate about it and want to make patients feel as comfortable as possible in what is such a scary time."
As a volunteer, you must only complete two, four hour days. Emily starts her shift by joining the nurses in the morning handover to understand the needs of patients. Whilst working on the Wigan Infirmary site, Emily is also completing college work on her days off.
As this is Emily's second time volunteering at WWL she said: "I looked forward to coming back and seeing the team. I was a little anxious as I knew this was a scary time, however I am thoroughly enjoying it and look forward to my future."
Laura Milward, Voluntary Services Manager, knows how important it is for the younger generation to be involved in the NHS at such a young age.
"Our younger volunteers do not understand the value they could bring to the trust, volunteering alongside our current volunteers, who do an outstanding role in supporting WWL."
The roles of the ward support have been expanded to include the use of technology, such as iPads, to help our patients contact their loved ones whilst they are in hospital. The Trust already supports a campaign called 'A Letter for a Loved One', but as well as this, patients seeing their family through a video call can make a massive difference.
The NHS needs your support. If you could spare four hours, WWL would welcome your support as we do have roles which can only be completed by a volunteer. For more information about this please visit: https://www.wwl.nhs.uk/volunteering-to-make-a-difference