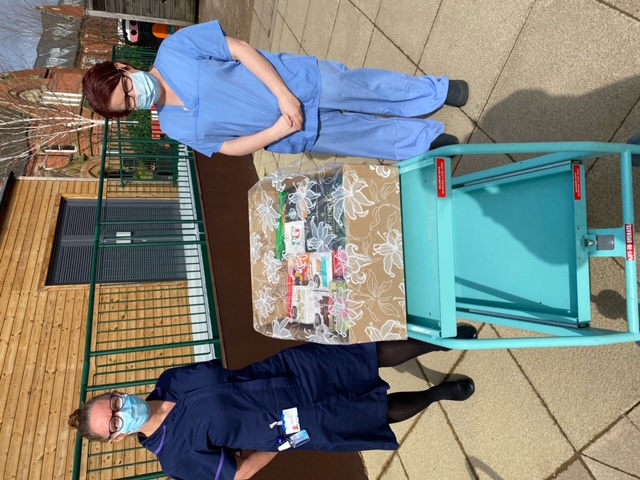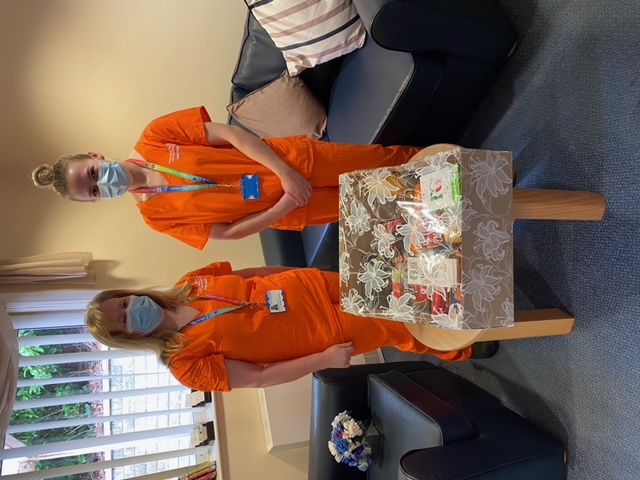 Members of the ICU and Mortuary teams receiving their hampers.
During the month of February 2021, our Data Analytics and Assurance Team (DAA) at Wrightington, Wigan and Leigh Teaching Hospitals NHS Foundation Trust (WWL), took part in a fitness challenge to raise money, to buy hampers full of gifts to donate to WWL's Intensive Care Unit (ICU) and Mortuary Team.
Collectively, the DAA Team racked up an incredible nine million steps throughout the month, the equivalent of walking to Port-au-Prince in Haiti from Buckingham Row in Wigan.
The money spent on the £70 registration fees was used to donate hampers to WWL's ICU and Mortuary Teams.
The DAA Team wanted to encourage team members to get physically moving and outside after months of being indoors, so they decided to embark on a new, fun idea, 'February Fitness'.
By splitting up into smaller teams for some friendly competition, they felt this would help motivate and encourage as many team members as possible to take part and get active, whilst raising money at the same time!
Each team was made up of two to five competitors, each headed by a team captain, who was ultimately responsible for gathering the daily step data, averaging the distance between the numbers of team players, updating the daily dashboard and of course motivating the team along the step journey!
February Fitness commenced from midnight on the 1st of the month, with every team raring to go and wanting to win. The DAA team's successes included smashing personal bests, new discoveries and adventures, seeing weird and wonderful wildlife, dramatic weigh losses, awesome team building and general fun and laughter, whilst improving their overall health and wellbeing.

"All of the team were so excited for this, we didn't expect it," said Laura Heywood, Programme Manager for DAA.

"Everyone was so committed to the challenge, even the snow, ice, rain, wind and freezing temperatures didn't faze them!

"Both teams have been working so tirelessly and selflessly throughout the pandemic, and we just wanted to give something back to them."

DAA Information Support Officer, Jeanette Quigley added:
"I really enjoy waking up early and going for a walk before starting work. It helps me to clear my mind and it's a great way to take in some natural light, which is especially important during winter months."
The DAA team would like to thank the sponsors who donated prizes including Asda, Halfords, Holland and Barrett and Sainsbury's.