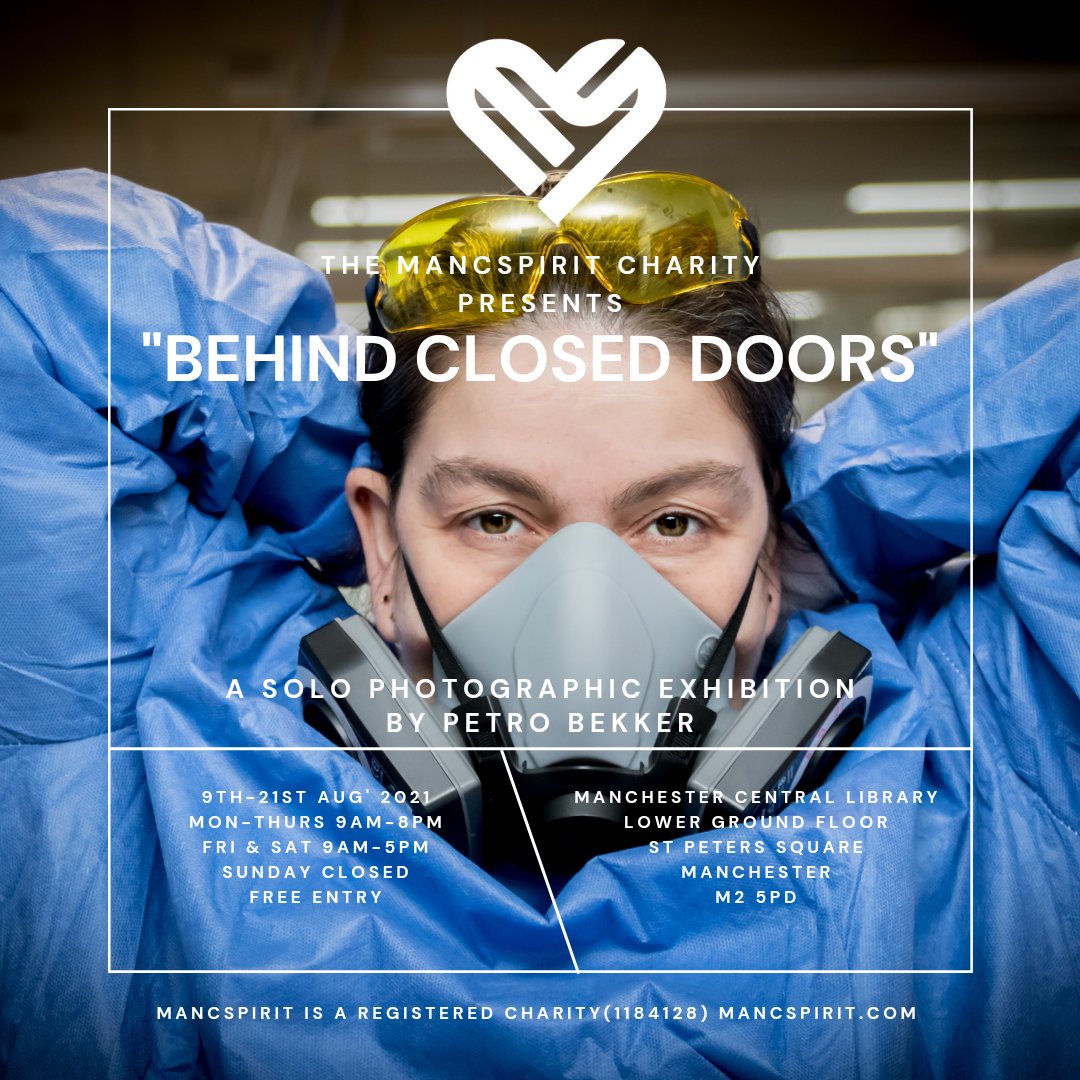 A collection of photographs illustrating the strength, determination, support, resolve and very real challenges of COVID-19 on our Intensive Care Unit is currently on show at the iconic Manchester Central Library.
The photographs were taken by WWL's Clinical Informatics Manager and passionate photographer, Petro Bekker, who returned to a former role to support the ICU team, where she documented part of their COVID-19 journey.

Greater Manchester's Mental Wellbeing Charity, MancSpirit have organised the exhibition, which has been running since 9th August and ends on 21st August. It will be open Monday to Thursday 9am-8pm, plus Friday and Saturday 9am-5pm.

The exhibition came about when Petro joined in with the MancSpirit #OurWigan festival in May following a request from the Charity for grassroots groups, local creatives and community heroes to send in submissions for inclusion throughout the week. The photo were shared through social media and there was an amazing response, leading to the creation of this exhibition.

Speaking about the exhibition, Petro said: "In March 2020 COVID-19 hit us. NHS staff with ICU training were asked to go back and support their colleagues and with 15 years' experience. I didn't hesitate to go back although it was a very scary prospect. Reality hit me. I can only describe it as a war where we could not see the enemy. Everything happened at a rapid pace and I had no doubt in my mind to return immediately to help my ICU Colleagues on the frontline.

"When the first wave hit us it was so overwhelming that it was impossible to capture anything. However, when the second wave came, as a keen Photographer, I knew that I had to document this journey as it was history in the making. I could not miss the opportunity to record it for future generations."

Supporting the exhibition, WWL's Deputy Chief Executive Mary Fleming said: "This is a very real and raw example of the reality of ICU during the height of the COVID-19 pandemic, the challenges our amazing teams faced and the emotions that caring for the sickest of patients brought out of our staff. I speak on behalf of the entire WWL family when I say thank you to everyone who works for the Trust for going the extra mile every day, and this exhibition is an excellent opportunity to show people the dedication shown, and pressure faced during one of the most testing times the NHS and our Trust has ever faced."

WWL's Chief Nurse, Rabina Tindale added: "We are incredibly proud of Petro, not only of her brilliance as a compassionate nurse, but also in illuminating the team's journey through her brilliant photography skills."

Paul Ludden, co-founder of MancSpirit, added: "This is an opportunity for people to experience the emotion, friendship and dedication that most would never see in a busy intensive care unit dealing with something they had never experienced before. It is an important snapshot of our social history and it is essential for me that people have the opportunity to see it for themselves."

The MancSpirit festivals are funded by GMCA Culture and this exhibition is one of the legacy projects that have given people from Greater Manchester a unique opportunity to showcase their creativity and promote their local area. Encouraging creativity to inspire positive mental wellbeing is central to the work of the MancSpirit Charity.

Paul added: "Through MancMade and MancSpirit I give creative talent an opportunity to showcase and develop their work. I wanted to give Petro, who has a real passion and talent for photography a platform through developing this exhibition and a huge 'Thank you' to her and her amazing colleagues in the NHS."

Damian Carr, co-founder of MancSpirit, said: "As a proud Mancunian whose partner is a Ward Manager in a local hospital it is really important to me that we continue to show our love and admiration of those people that put their lives on the line to protect and support us.

"The people of Greater Manchester are the greatest people in the world and when something serious happens we take action and do what we can to help. But soon after everyone goes back to their own lives and that community energy, togetherness and love dissipates. Through MancSpirit we harness that unique Greater Mancunian energy and inspire a wider sense of family and connection that improves how everyone feels".