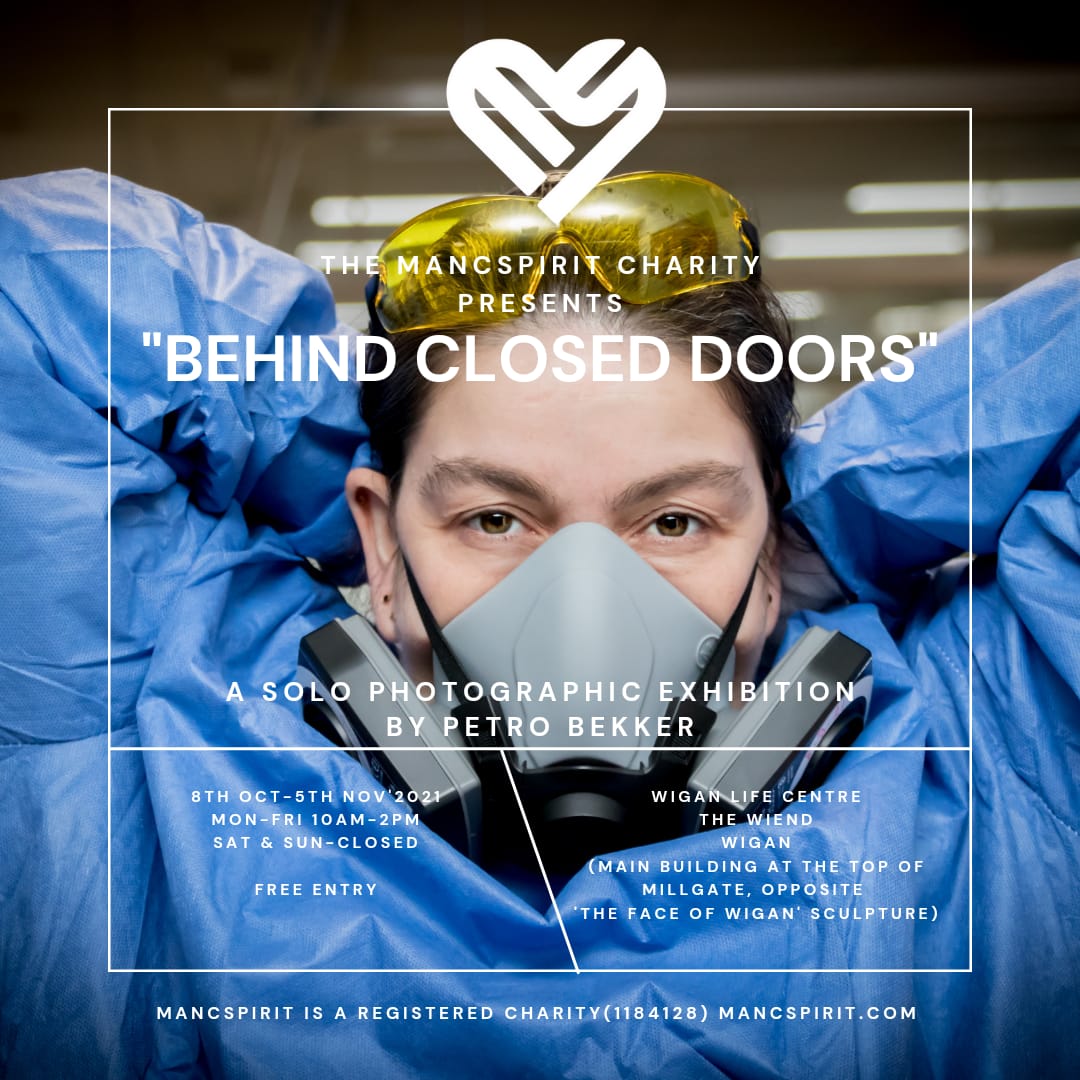 Hosted by Wigan Council and Greater Manchester charity, MancSpirit, the 'Behind Closed Doors' photography exhibition has arrived back in the Wigan Borough and will be available to visit at Wigan Life Centre throughout October.
A reflection of Wrightington, Wigan and Leigh Teaching Hospitals NHS Foundation Trust's teamwork throughout the COVID-19 pandemic, created by Clinical Informatics Manager, Petro Bekker, the exhibition was originally on show in Manchester Central Library back in August, but will now have a new home in Wigan town centre.
Petro volunteered to support former colleagues in the intensive care unit, where she had previously worked as a senior sister. During her time back with the ICU team, she captured the reality of life on the front line, which make up her collection, entitled '#BehindClosedDoors'.
Speaking about the display, Petro said: "It is my absolute pleasure and honour to have had the opportunity to capture the emotions of the fantastic, resilient, multi-professional team working every day, every shift in an intensive care unit. I hope it gives those visiting the exhibition more insight of what went on behind closed doors during the height of the pandemic."
WWL Chief Executive, Silas Nicholls said:
"Our patients, our staff and the wider public have faced enormous challenges over the past 18 months, but the way everyone has pulled together to support each other only adds to that sense of pride already felt within the Wigan Borough.
"The teamwork and togetherness on show in the photos represents the experience, not only within our intensive care unit, but across all of our Trust services. It's important for our staff to be able to share their experiences in ways like this and I'm grateful to Petro and her colleagues for capturing such a unique perspective of the pandemic.
"I would like to thank Wigan Council and MancSpirit for helping Petro to bring the exhibition back to the Wigan Borough for more people to see."
The photographs will be on display throughout October, at which point the photographs will be included in Wigan and Leigh Archives' 'Covid Archive' so there is a permanent historical record of Petro's work.
To view the collection, you can visit the Mezzanine, Wigan Life Centre, Monday-Friday between 10am-2pm.