After the devastating news of the loss of her second grandson, 52 year old, Mandie, wanted to say thank you for the support her daughter and partner received from Wrightington, Wigan and Leigh Teaching Hospitals NHS Foundation Trust's, Midwifery and Bereavement Team.
Mandie Halliwell, from Ince in Wigan, was heartbroken with the news that her daughter, Steph and partner Josh, had sadly lost their new-born son. Baby Roby Brian Unsworth was born asleep at Wigan Infirmary on 9th December 2017.
"The support my daughter and her partner had was so respectful. We couldn't have wished for better support for her," said Mandie.
Being the couple's first baby, this was a very hard time for Steph and Josh. This is not what they had prepared for.
On the day of Roby's birth, at 21 weeks and 4 days, Steph and Josh, from Orrell, were invited to stay in WWL's Pearl Suite, based on the Delivery Ward at the Royal Albert Edward Infirmary.
The Pearl Suite was renovated in 2016 by a couple, following the loss of their twin daughters, Peggy and Pearl, with their memory providing a private room where bereaved parents can spend time with their babies in a safe and comfortable environment, with the provision of a furnished double bed and small catering facilities.
In honour of her grandson, Roby, Mandie wanted to do something to say thank you to the staff that cared for her daughter and Josh.
"I love fundraising, so this means more to me, as it is for my own child."
Mandie started fundraising in April 2018 to try and raise money to purchase a cuddle cot.
A cuddle cot is a special cold unit with a basket where parents can place their stillborn child. The cold helps preserve the body. With the cuddle cot, parents can either bring their baby home or stay with them at the hospital, rather than have the baby's body sent straight to the hospital morgue. This means that they can take as much time as they need to say goodbye.
After just over a year of fundraising, with the help from her friends, Mandie managed to raise an amazing £1,650. This allowed her to buy a cuddle cot worth £1,570. With some of the remaining money, Mandie purchased wool to allow her neighbour to knit cardigans and hats for the Pearl Suite. She also purchased two silver plaque that reads the words "In loving memory of Roby Brian Unsworth" to be placed on the side of the cot. The other will be put up on the walls of the Pearl Suite.
The money was raised by Easter egg raffles, tombolas, and local businesses donating vouchers to allow Mandie to raffle them off. £100 was donated from a local Zumba group, ran by Mandie's sister, as well as £40 from a English comedian, who relates to the problems Mandie and her family have suffered. £50 was also donated from a friend of Mandie's, after the loss her grand-daughter.
Not only has Mandie raised money to purchase the cuddle cot, she has also hand made a special hamper that includes teas, coffees and biscuits for anyone staying in the Pearl Suite. Angel gowns were also donated by Mandie.
"The angel gowns have been hand made by my friend in Leeds. She has kindly made the gowns out of her wedding dress, so that stillborn babies can wear them when they are in the cuddle cot.
"They can also be worn if the babies do not fit in anything on their journey to heaven."
Now, mother to three children, Steph appreciates all the effort her mum has made to allow them to give this special cuddle cot to WWL's Pearl Suite.
Steph and Josh were accompanied by their two younger children, Nellie (2) and Bobbi (3 months), as well as, Mandie, to hand over the cuddle cot at Wigan Infirmary, at a safe social distance.
Angela Purcell, the Midwife who helped welcome Nellie into the world, was there to thank the family on behalf of the Midwifery and Bereavement Team at WWL.
Angela said "I remember Nellie's birth like it was yesterday. I bonded so well with Steph and her mum, Mandie. It was a real special moment for the family and I was glad that I was part of it."
WWL's Tree of Hope was also lit up in rainbow colours in honour of the loss of their son, Roby and the birth of their two children.
"We call our daughter, Nellie, our rainbow baby as a baby born after a loss, is a Rainbow baby. We also call Bobbi, our pot of gold" said Steph.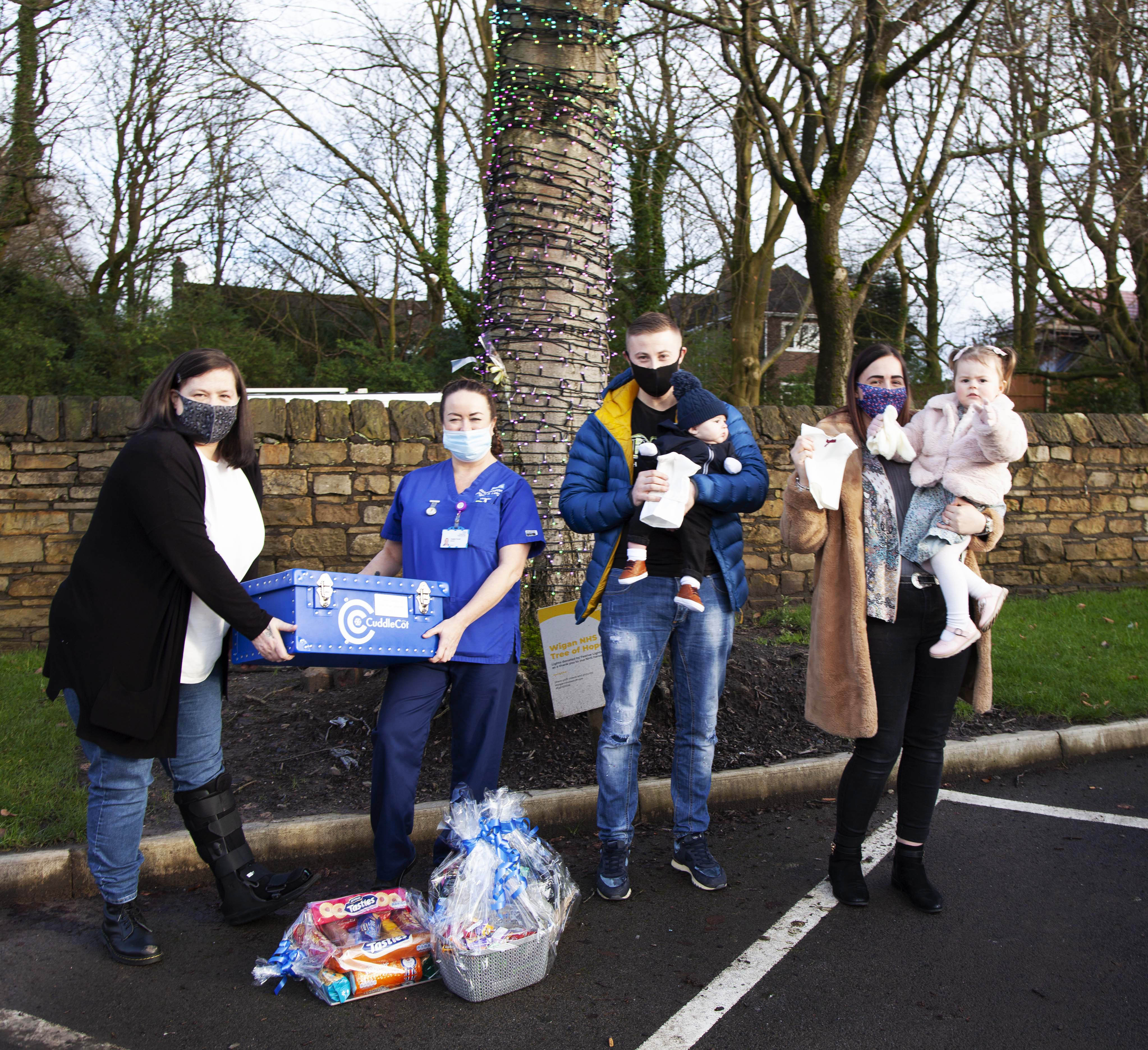 From left to right: Mandie Halliwell (Nan) carrying the cuddle cot with Midwife, Angela Purcell. Josh holding 3 month Bobbi next to Steph, holding 2 year old Nellie