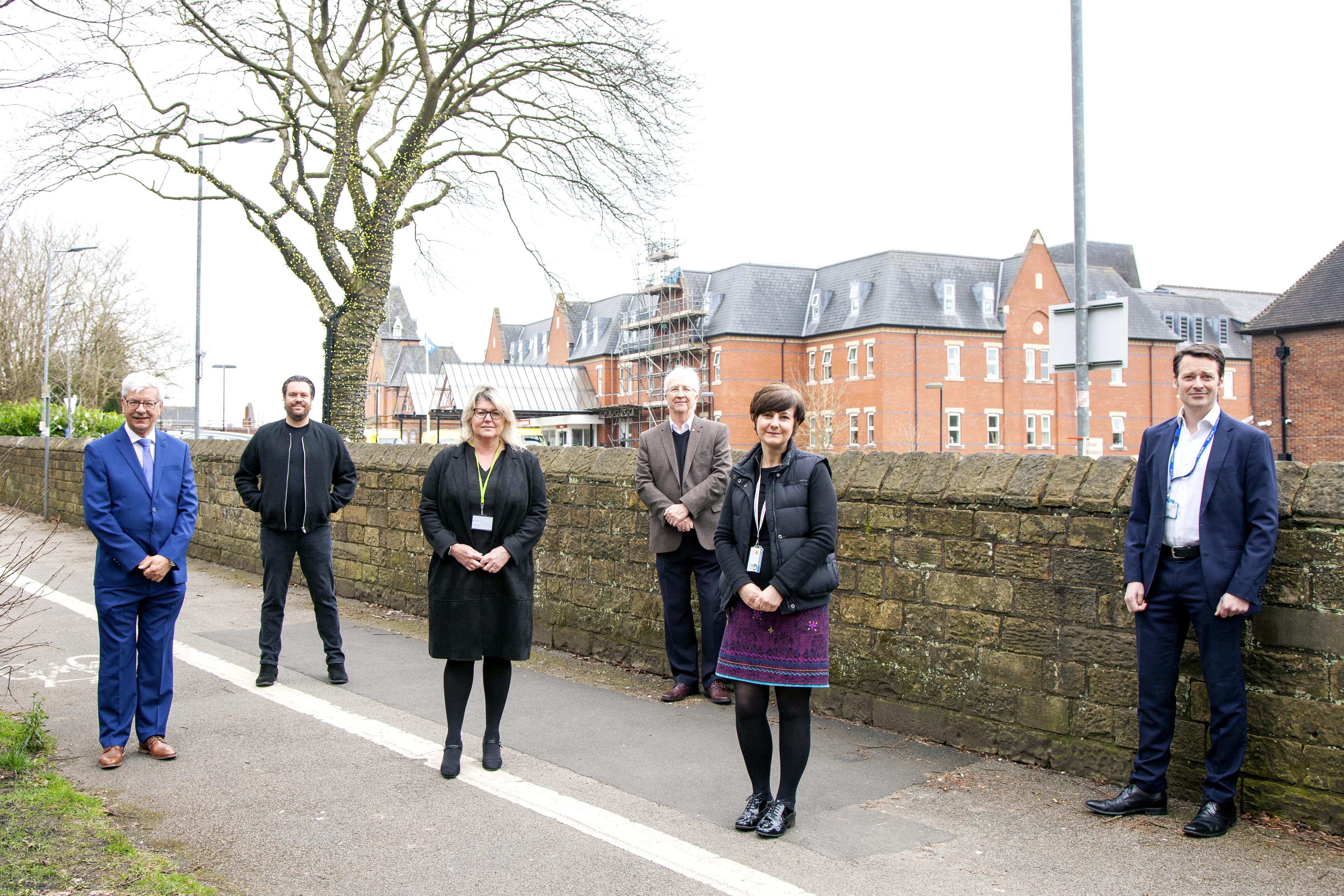 Pictured: Robert Armstrong (WWL Chair), Craig Harris (Wigan Borough CCG Managing Director), Alison McKenzie-Folan (Wigan Council Chief Executive), Cllr David Molyneux (Leader of Wigan Council), Jo Carby (Wigan & Leigh Hospice Clinical Director), Silas Nicholls (WWL Chief Executive)
Staff at Wrightington, Wigan and Leigh Teaching Hospitals NHS Foundation Trust joined together on the National Day of Reflection on Tuesday 23rd March, to pay respect to everyone impacted by the COVID-19 pandemic.
The Tree of Hope outside of the Royal Albert Edward Infirmary was lit up yellow, with WWL Chief Executive Silas Nicholls and Chairman Robert Armstrong attending a short ceremony alongside leaders from Wigan Council, Wigan Borough CCG and Wigan & Leigh Hospice.
Staff and patients shared their thoughts by hanging messages of reflection, memorial and hope on trees in the chapel and prayer rooms at Royal Albert Edward Infirmary, Wrightington Hospital and Leigh Infirmary, with WWL's Chaplaincy on hand to offer support to those who needed it.
Silas Nicholls, who is led WWL's day of reflection, said:
"Although we may not need a reminder of what we have faced and overcome, there is always a need to take the time to reflect. Reflect not only on how we have come together, adapted and found ways to embrace this new type of world, but also to take a moment to remember those we have sadly lost too soon due to this deadly and unforgiving virus.
"Many of us, and our patients' families, have been unable to properly say goodbye to loved ones or to grieve. The National Day of Reflection is a moment for us all to remember and grieve, but also to celebrate the lives of everyone we have lost during this time and show support for our families, friends and colleagues.
"Not only have we come together as a WWL family, but also as a Borough, whether that's through ensuring all staff, patients and public are protected and kept safe through our Borough wide vaccination programme, or through the deployment of staff to support our organisations in their time of need.
"Remember, we are all in this together."