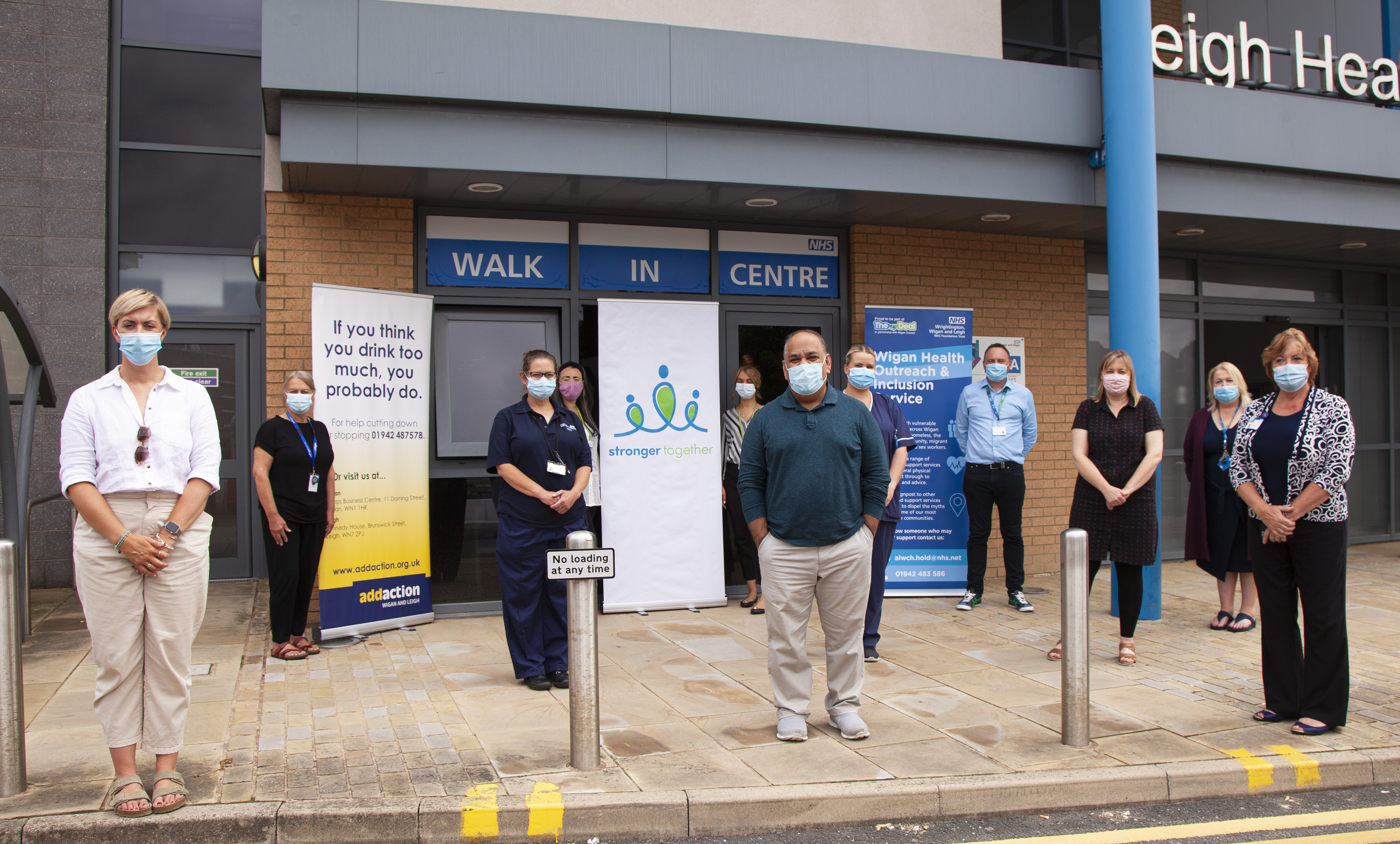 A new service has been launched at Leigh Walk-in Centre to provide support, information and medical treatment to vulnerable adults who live within the Wigan Borough.
The 'Stronger Together' team, which is a partnership between Wrightington, Wigan and Leigh Teaching Hospitals NHS Foundation Trust, Wigan Council, Community Health Partnerships Ltd and We Are With You Wigan and Leigh, is currently open on Fridays from 10.00am to 4.00pm, with an option to adapt depending on the need to further increase opening times to other days.
'Stronger Together' provides support from Wigan Council's Homelessness Solutions, WWL's Clinical Outreach and Inclusion and We Are With You's Drug and Alcohol Services. Vulnerable adults can access medical care, a therapy service, smoking cessation, wound care management and support for heart failure and COPD (chronic obstructive pulmonary disease).
Speaking about the new service, WWL's Directorate Manager, Division of Medicine, Carolyn Dereszkiewicz said:
"Working with Wigan Council and We Are With You, the Stronger Together Team is able to provide one-to-one support for vulnerable adults, with access to a range of services, including a GP who is present at Leigh Walk-in Centre.
"As a team, we pride ourselves on being an approachable service and a safe space for people who need it. An initial consultation takes place in a private room, with food and drink available to support any initial nutritional needs.
"Should it be needed, a GP is available to assess any medical needs without a planned appointment, and medication can be prescribed from our in-house pharmacy.
"The care we are able to offer is wide-ranging and adaptable to suit the needs of our patients and is an excellent example of multidisciplinary health care."
Deputy Leader of Wigan Council, Councillor Keith Cunliffe, said: "This is an exciting new partnership which can advise and support individuals and families who are at risk of homelessness, or where assistance is needed with alcohol or drug related issues. This opportunity will enable residents to access advice in the community to prevent issues from escalating into crisis.

"I am pleased that those accessing the service will be welcomed by professional support staff who can offer immediate advice and support and ensure rapid access to specialist health and support services where required."

Councillor Susan Gambles, Wigan Council's portfolio holder for housing, added: "Preventing homelessness is a priority for the Council and we have a range of quality services available that can assist individuals and families. This partnership approach in Leigh will ensure that local residents can quickly and easily access these services and get the advice and support needed.

"The Stronger Together partnership is situated in the heart of Leigh at the walk-in centre and is a welcoming and discrete environment that is there to help. There is no need to book and if you have any concerns at all, our teams will be happy to support you."