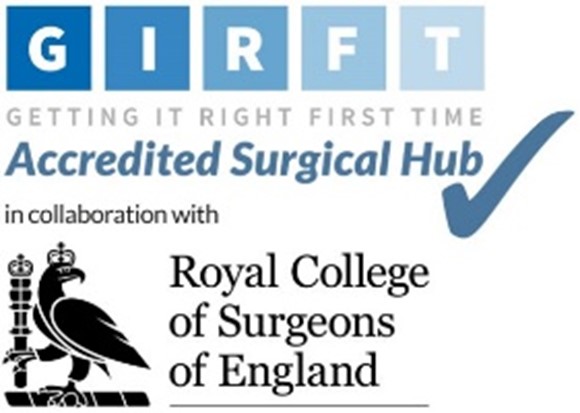 Wrightington, Wigan and Leigh Teaching Hospitals NHS Foundation Trust (WWL) is pleased to announce the Surgical Hub at Wrightington Hospital has been awarded accreditation by the Getting It Right First Time (GIRFT) programme, following a visit by NHS England in September 2023.
The programme assessed the hub against a framework of standards to help deliver some of the most common procedures, such as hip replacements, while also seeking to assure patients about the highest standards of clinical care.
It means the surgical hub at Wrightington Hospital has been nationally recognised in a range of criteria, for meeting top clinical and operational standards, and is a visible marker of excellence quality in how the hub is managed, and the experience of its' patients.
Surgical hubs are a key element in NHS England's national elective recovery effort, to deliver 30% more elective activity by 2024/25. They give hundreds of thousands more patients quicker access to some of the most common. They're separated from emergency services, meaning their surgical beds can be kept free for patients waiting for planned operations, reducing the risk of short-notice cancellations.
Deputy Chief Executive Mary Fleming said: "I am so proud of my colleagues being able to celebrate achieving accreditation for the Surgical Hub at Wrightington Hospital. I know months of hard work has been spent to make this happen, and it will have a direct benefit for the patients we serve. We already know we deliver outstanding care, but this further demonstrates our services at WWL are optimised, efficient and delivering the best possible care and value for our patients.
"Achieving this milestone also means the Trust is brilliantly placed to support improved patient outcomes and access times, not only in our local community, but across Greater Manchester and beyond. Wrightington Hospital is already renowned as a Centre of Excellence for musculoskeletal conditions, as well as being the Greater Manchester Hub for orthopaedics – achieving accreditation for the Surgical Hub is yet more recognition for the incredible work taking place here."
The Surgical Hub at Wrightington Hospital is one of 24 hubs to date that have been accredited. There are around 94 hub sites currently in operation in England and the scheme is being rolled out nationally with quarterly cohorts to accredit all hubs over the next two years. While it is not mandatory for trusts to seek accreditation, the long-term goal is for every elective hub to be accredited.
Professor Tim Briggs, Chair of GIRFT and NHS England's National Director for Clinical Improvement and Elective Recovery, said; "We have been impressed with the professionalism and enthusiasm of the hub teams who are delivering outstanding care.
"All of the sites we accredited are focused on delivering safe and high-quality care, and an excellent patient experience. GIRFT's focus is on developing surgical hubs with the aim of improving patient flow so that patients have shorter waits for surgery and, for some procedures, will be more likely to be able to go home on the same day."