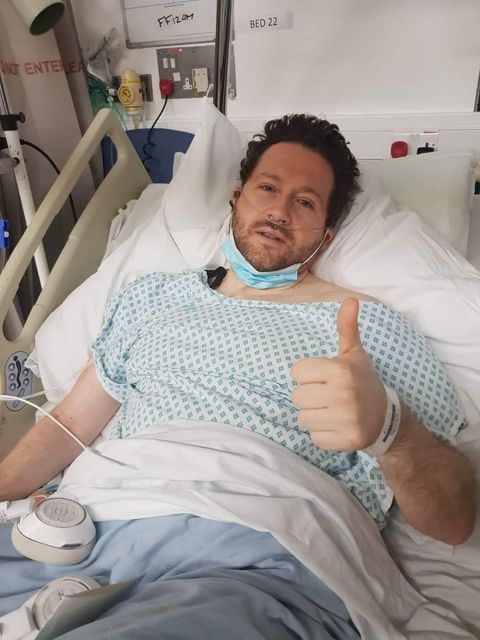 After running every single day for more than four years, Matthew Melling, better known as The Wigan Runner, has sadly had to stop due to an unexpected diagnosis that left him needing an urgent operation at Royal Albert Edward Infirmary.
Matthew, age 36 from Pemberton in Wigan, starting his running streak on 1st January 2017 with the aim of his New Year's resolution to run every day for a month, but Matthew kept this up by running 5km every single day, in any weather conditions and across 25 different countries, for just over four years, until the unexpected happened at day 1,479.
"I had been feeling a sudden pain in my stomach for around 12-18 months, but it would disappear and I would just dismiss it," explained Matthew.
It was only until the sudden pain didn't go away in the early hours of the morning on 17th January, Matthew realised this pain could be serious.
"I felt it in the right side of my stomach and I knew this is where is my appendix was. I tried to run on what would have been the 1,479th consecutive day, but that was when I knew I had to ring my Doctor."
The Wigan Runner was advised to go straight to Wigan Infirmary's Emergency Department, which is where he was told that he would be staying on a ward overnight to undergo surgery the following morning.
"I was taken to the non-Covid ward, as I had tested negative. The staff were just brilliant with me. I don't have enough words for them.
"From the cleaners, health care assistants, nurses, doctors and everyone behind the scenes, who are working so hard, they deserve so much recognition."
During his five days in hospital, Matthew was keen to give back and decided to use his following to support him.
"I want to raise as much money as I can to help the wards and to get the hospital some equipment that they need."
"My target was originally £1,480, as that was the day I stopped running, however now that I am at home recovering, I am motivated to raise more."
Not only is he raising money on a Go Fund Me page, Matthew is also setting up an auction, selling running gear sent to him by big named brands such as Nike.
The Wigan Runner was heart-broken when he heard the news about him not being able to exercise for 4-6 weeks. However, his supporters have carried his streak and continued to run for him.
Matthew continues to speak to his social media community with live videos and interacting with the public by responding to messages.
"People in Wigan, the North West and even North America and Australia, have really boosted my morale by sending me messages and videos of them running for me and for the hospital.
During the Global Pandemic, mental health has really taken a toll on people's lives. Matthew wants to encourage people to get outside and start exercising. This can be a walk, a jog or even a run, within the current guidelines, of course.
"Anyone thinking of starting to run should not be afraid. Don't think about what you look like or whether people will judge you. Buy yourself a new pair of trainers, put your favourite music on and get outside.
"The first hurdle is your first run, the hardest of them all. Everyone can walk and when you think the moment is right, turn that walk into a jog. You will start running without knowing you have even started. Find a Way!"
https://www.gofundme.com/f/help-me-keep-this-journey-streak-going-everyday