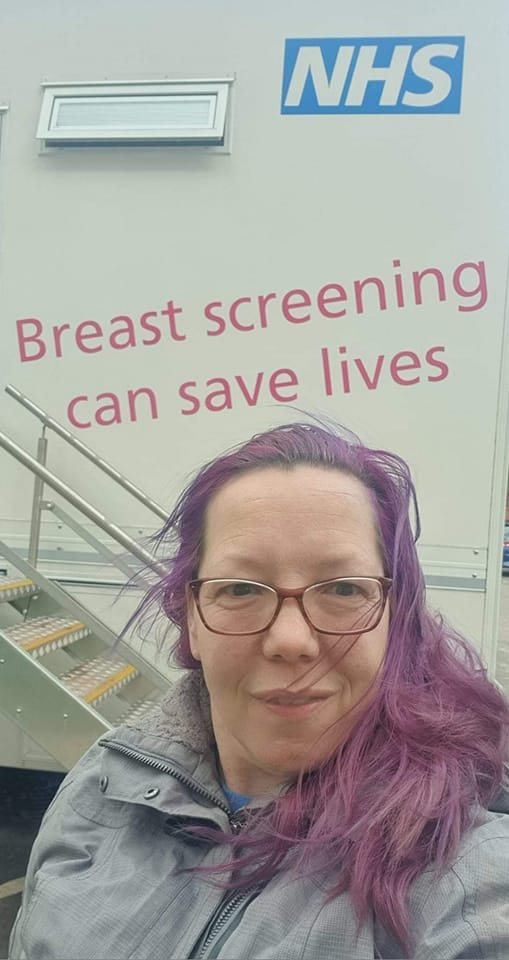 At Wrightington, Wigan and Leigh Teaching Hospitals NHS Foundation Trust (WWL) we pride ourselves on delivering exceptional care to all our patients from all walks of life.
There are few better examples of this than the care Mihaela Atkinson recently received as she attended her first breast screening appointment at Leigh Infirmary's mobile breast screening unit.
Mihaela is a member of the LGBTQIA+ community and was anxious when accessing NHS services in fear that she may face some barriers in accessing healthcare because of her sexual orientation.
During her screening Mihaela said she was treated with respect and dignity by WWL's Radiography Team and reflected on her experience: "Before my appointment I felt a little nervous because I didn't know about the process before I moved to the UK from Romania. I researched about the examination online and my partner also told me what to expect when I attended. So I was well informed prior to attending.
"I received my invitation through the post and found the details very clear to understand – I also found the SMS text reminder of my appointment extremely helpful.
"I was treated well with respect and dignity. The Radiographer explained the procedure in detail and put me at ease and I did not experience any discrimination due to my sexual orientation during the examination.
"I will have no apprehension about attending when I am invited again in three years. I feel confident about attending the examination and really want to encourage other women to attend if they have been invited."
WWL strives to provide an inclusive experience for all patients using its services and is currently undertaking the phase two of the Rainbow Badge scheme, which focuses on improving LGBTQIA+ experiences for staff and patients.
Speaking about the Trust's commitment to the LGBTQIA+ community, WWL's Director of Corportate Affairs and Executive Sponsor for LGBTQIA+ Inclusion, Paul Howard said: "It's really amazing to hear the positive experience that Mihaela had with our Breast Screening Team.
"At WWL we pride ourselves on being an inclusive and diverse Trust and stories like this show how everyone accessing our services can expect to receive high quality care without fearing judgement or discrimination.
"We'd like to thank Mihaela for her feedback and look forward to welcoming her back to WWL should she choose to access our services in the future."