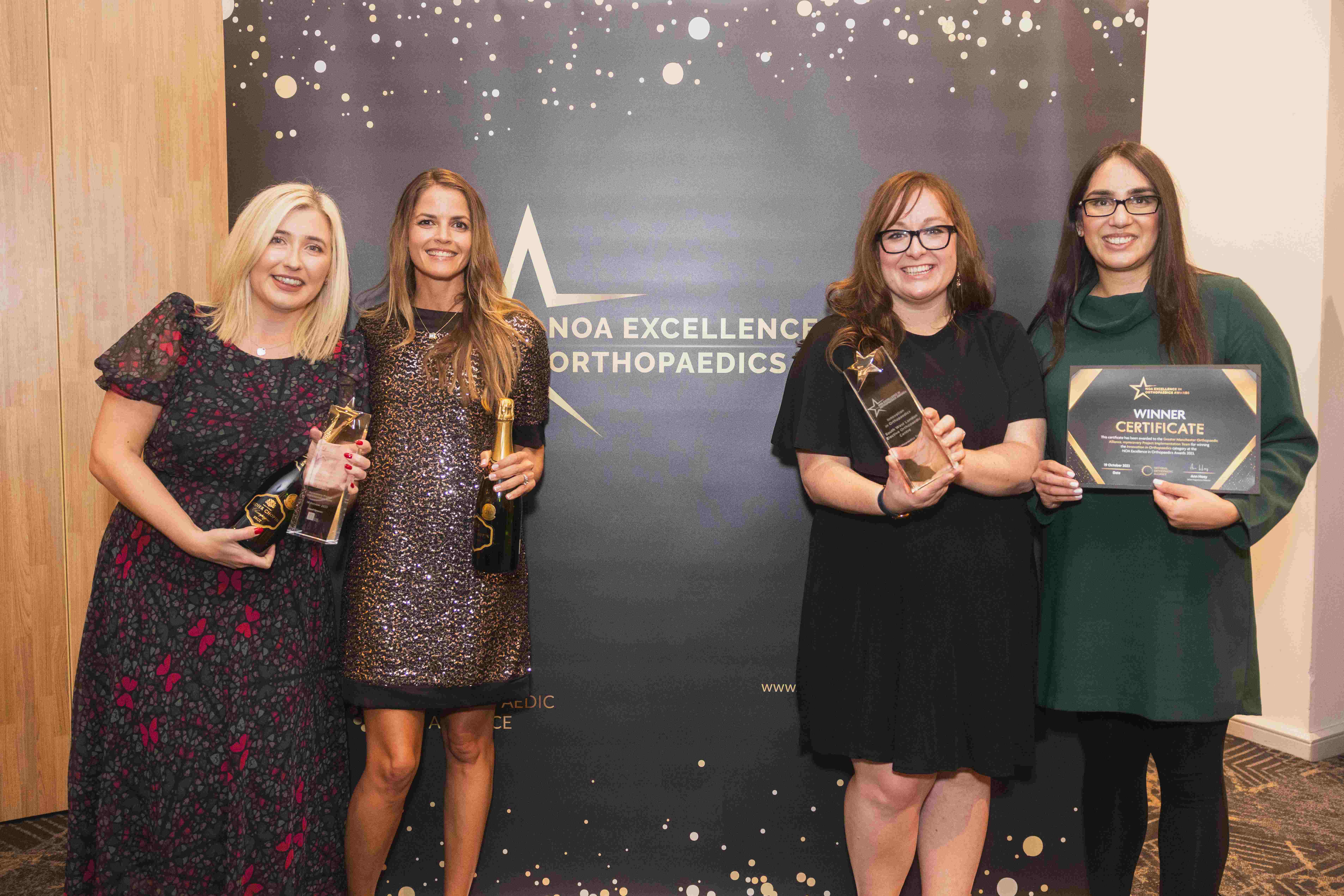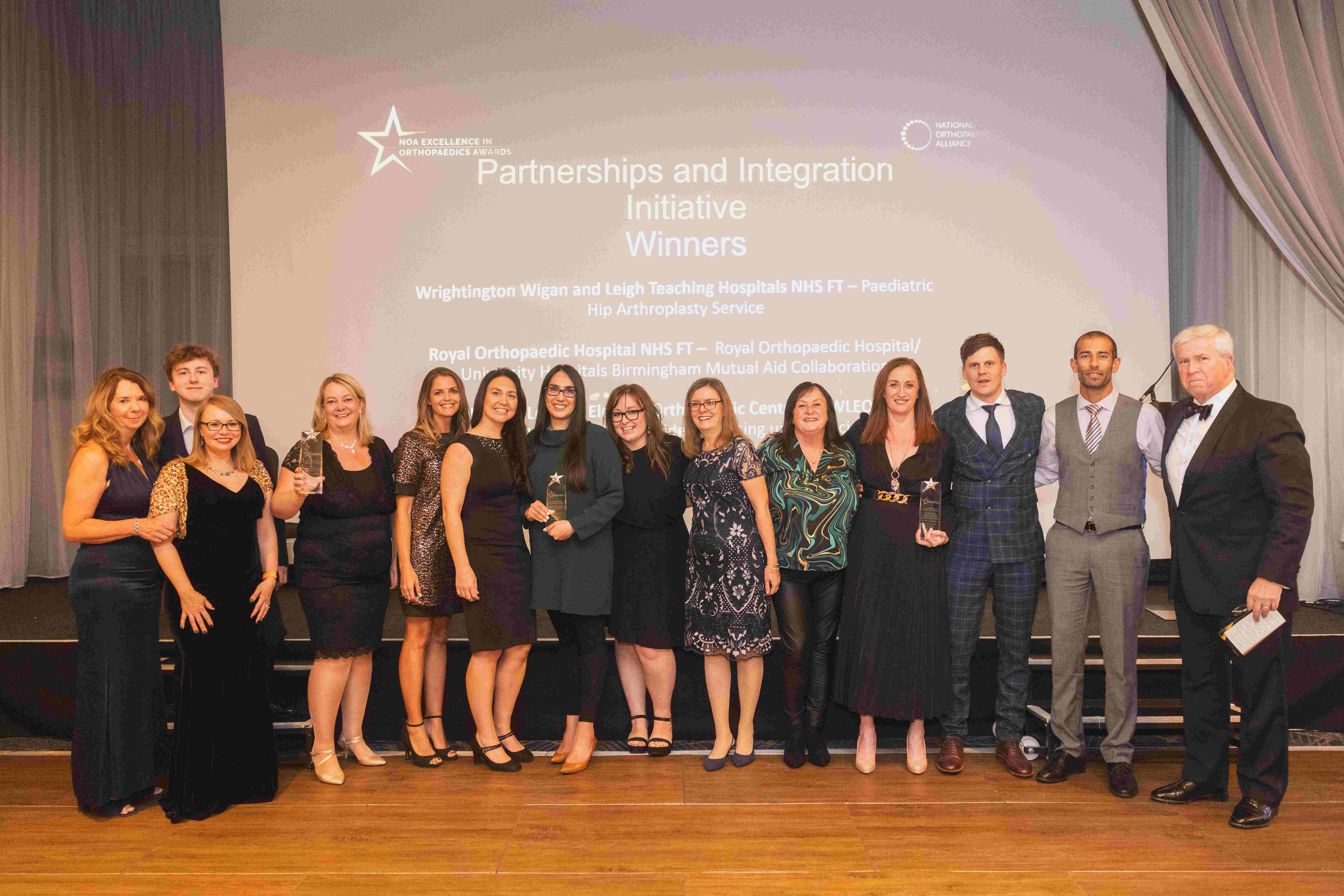 Wrightington, Wigan and Leigh Teaching Hospitals NHS Foundation Trust (WWL) is celebrating after colleagues from Wrightington Hospital scooped two wins at the National Orthopaedic Alliance (NOA) Awards Ceremony.
Praising the outstanding achievements in orthopaedics, the annual event recognises the exemplary contributions and dedication of NOA member organisations, in their mission to transform orthopaedic services.
WWL's Paediatric Hip Arthroplasty Service was named one of three winners of the Partnerships and Integration Initiative Award for their partnership initiative in driving transformation and improving children's orthopaedic services.
Professor Tim Board, Orthopaedic Consultant, said: "Receiving this award will help us to get the message out that hip replacement in children can be a life changing operation and should be considered an option for severe hip disease.
"Performing a hip replacement for a child is a rare operation, however, when there are no other options, we have been able to show just how dramatic the results can be. We have had many children come to us in wheelchairs, being unable to go to school or meet up with friends and after the surgery they have all managed to return to normal schooling and leave their wheelchairs behind.
"The impact on the whole family has been staggering and life changing."
The Greater Manchester Orthopaedic Alliance - Trauma and Orthopaedic Care Pathway Optimisation Using a Digital Platform – was also named joint winner of the Innovation in Orthopaedics Award. The award was given to organisations that demonstrated a clear, significant, and successful innovation that has improved patient outcomes, reduced recovery times, and enhanced the overall quality of life for those suffering from musculoskeletal disorders and injuries.

WWL's Transformation Programme Manager, Louise Benson, accepted the award on behalf of the Greater Manchester (GM) initiative and said: "The team have been working with a company called myrecovery across GM whose app aims to deliver the right information at the right time for our patients undergoing Orthopaedic Surgery and this award was for us all.
"Myrecovery allows our patients to access information about their surgery, complete questionnaires or surveys from the comfort of their home and watch informative videos with the app also supporting our patients, post-surgery, with exercise routines and the availability to link to other healthcare apps to monitor things like step count."
Louise continued: "The use of digital technology within healthcare seems to be becoming more frequent and while we understand that not every patient will want to, or is able to download an app to manage their pathway, we are seeing real engagement from our patients and receiving lots of positive feedback. Celebrating excellence and innovation at the NOA Awards and achieving an award which supports innovation in orthopaedics highlights all the hard work that's gone into making this a success, and it's only the beginning."
WWL's Chief Executive, Silas Nicholls, said: "These national awards are very much deserved and shows how Wrightington Hospital continues to be at the forefront of health innovation. Well done to all the teams involved."
WWL's Digital Therapy Recruitment Team were also named as finalists in the Workforce Recruitment Campaign Award which recognises the successful delivery of a staff recruitment campaign within an organisation.