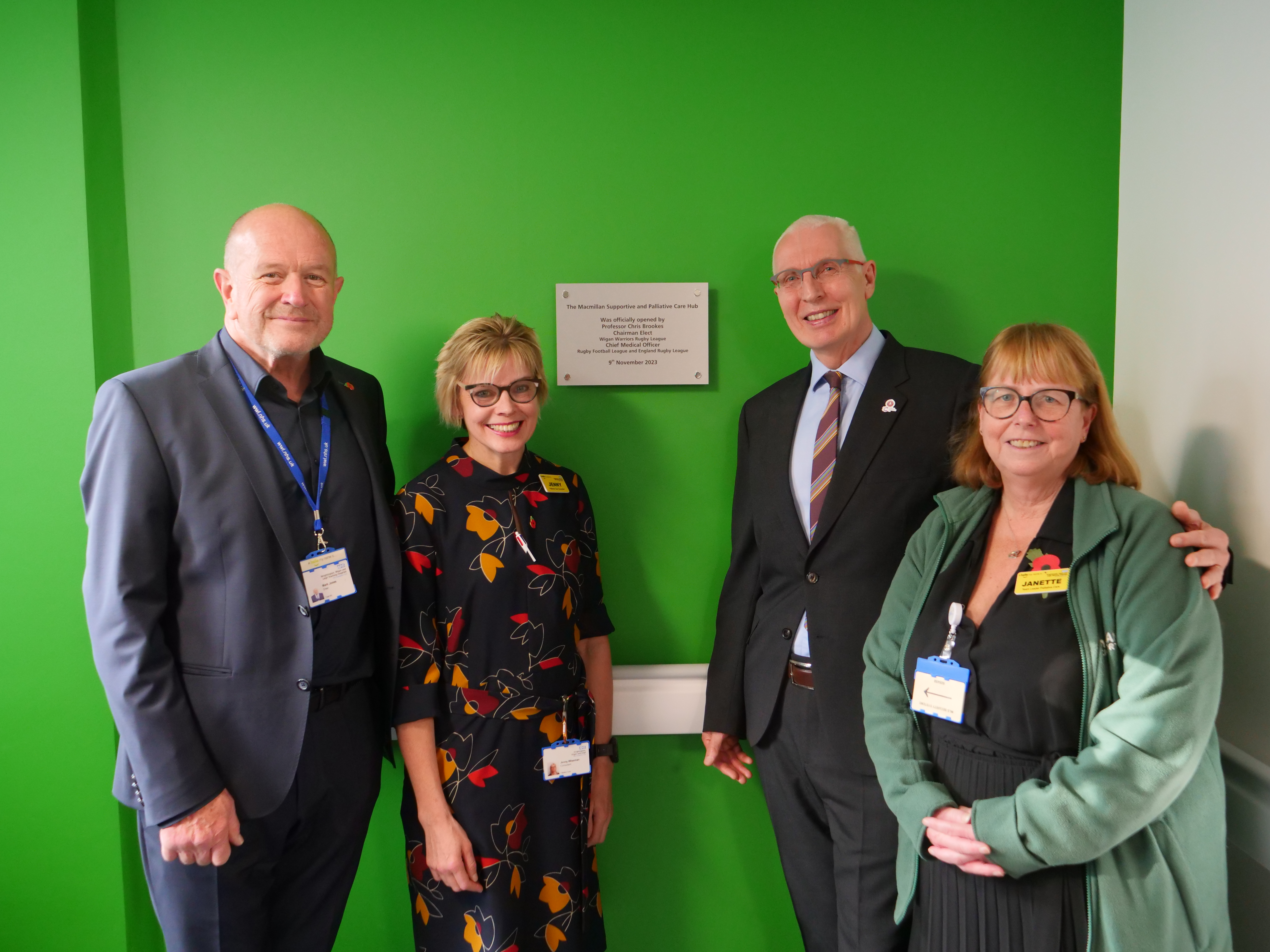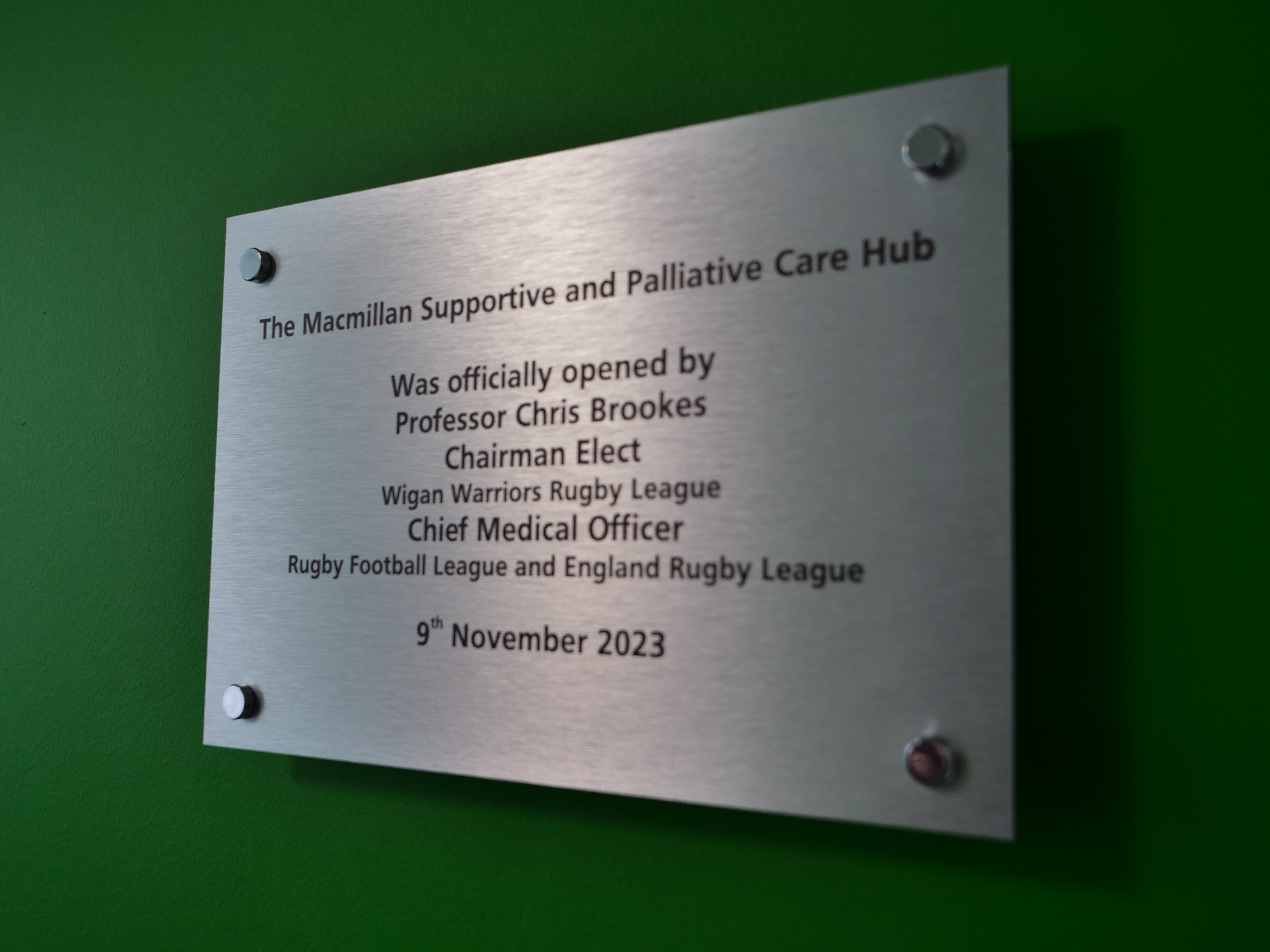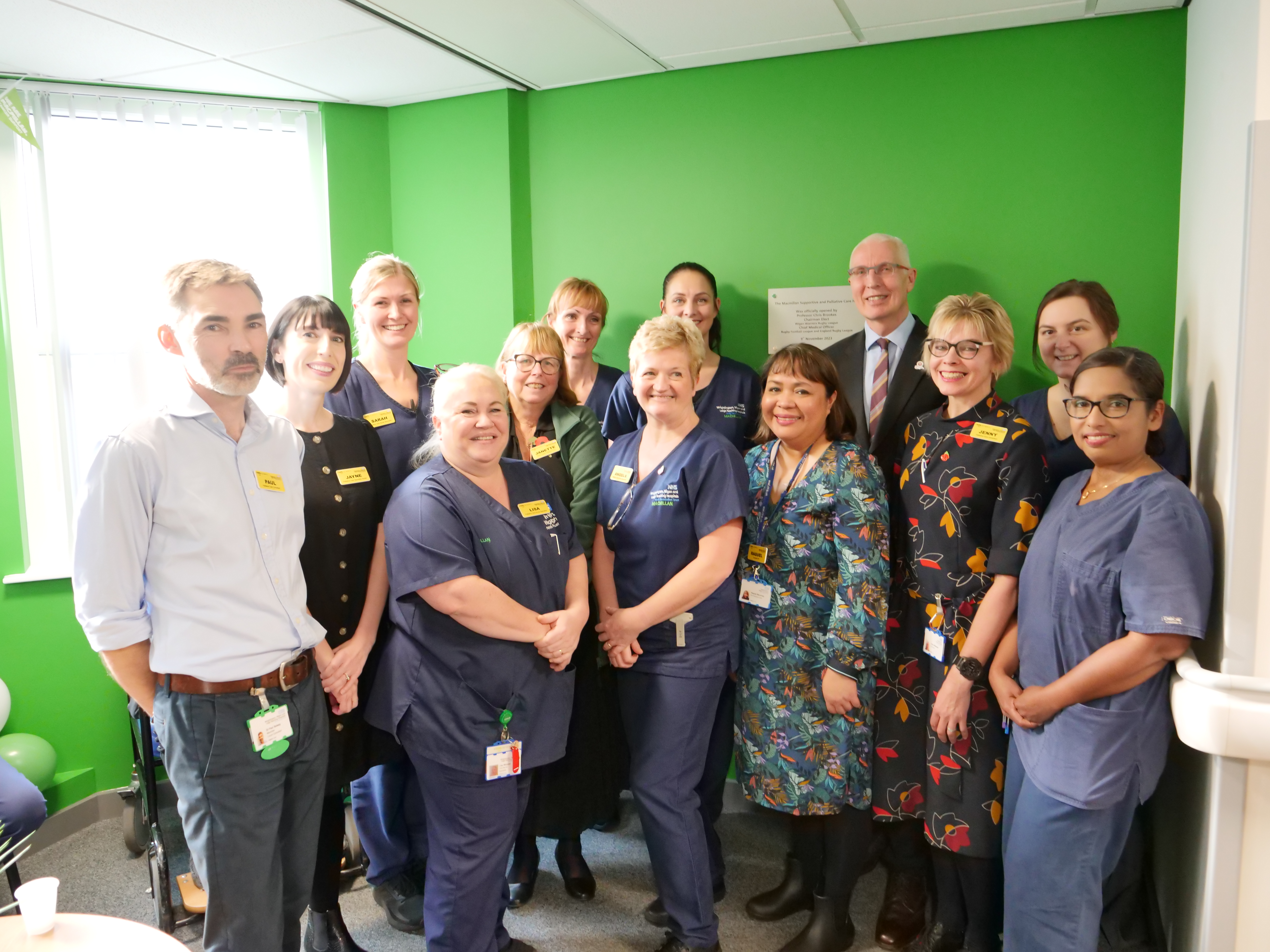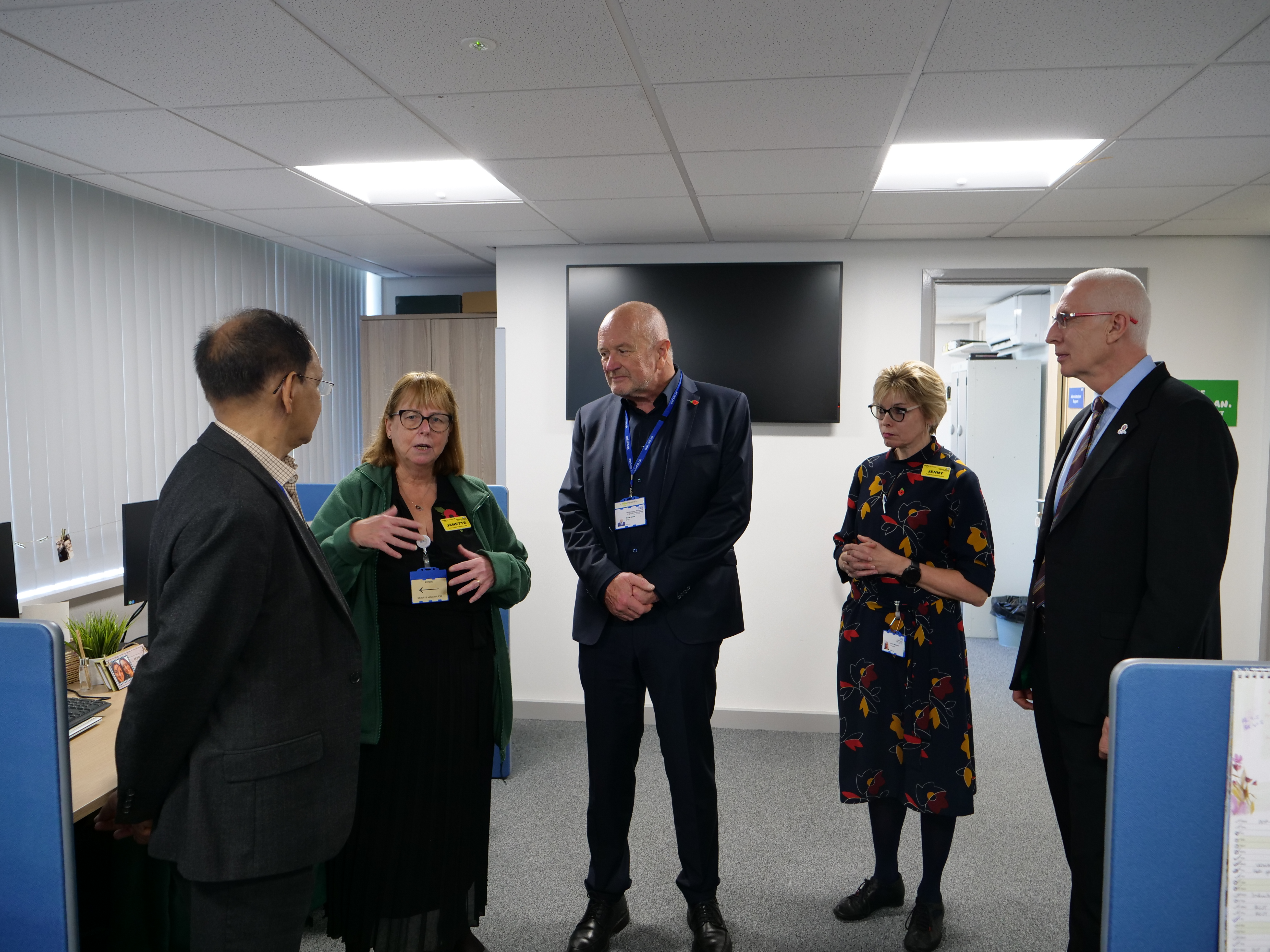 A former ward has been transformed into a new Macmillan Supportive and Palliative Care Hub at the Royal Albert Edward Infirmary (RAEI), providing new space to support patients and their families.
Members of staff at Wrightington, Wigan and Leigh Teaching Hospitals NHS Foundation Trust (WWL) were joined by Professor Chris Brookes, Chairman Elect of Wigan Warriors Rugby League and Chief Medical Officer, Rugby Football League and England Rugby League, as he officially opened the area that is set to transform the way in which end-of-life care and support is delivered at the Trust.
Welcoming staff, patients and invited guests to the hub, Dr Jenny Wiseman, Palliative Care Consultant said: "Our vision was to have an integrated unit for all our team that includes outpatient facilities so we can increase our clinic capacity and further develop hot clinics to support patients concerns and reduce some attendances in our Emergency Department.
"We have a huge number of people ringing our doorbell - inpatients, their families, and staff seeking us out - and this new hub gives us more space to support and speak to anyone who finds us here, in privacy.
"We all feel incredibly valued and fortunate to be working here and be able to develop our services further to benefit the people of Wigan. There are so many people to say thanks to, with so many key people involved in this journey to getting us here today.
"We are grateful to our Executive Board who enabled this unit to be designed and created around the needs of our service and the Estates Division leads who led this Project. Equally, our two user representatives Nic Clewes and Mick Hodlin have been an integral part of this journey."
Dr Wiseman continued: "This new unit gives more opportunity for education and training of student and trained clinicians. We work closely with Edge Hill University and from 2023 have been taking medical students for a five-week placement in palliative care and oncology, which is an opportunity that medical students at most universities do not get.
"I am delighted that two of our students are with us today and am very proud that the first students to take part in this programme will graduate next year."
The Palliative Care Team offers a seven-day service in hospital, providing specialist palliative care to patients with life limiting illness with symptom control advice, emotional and psychological support to patients and their families, as well as educating staff.
Having grown out of their previous accommodation due to demands on the service and new members of staff, the search was on for a new home and work began to upgrade the new space, previously Gidlow Ward at the RAEI, in January this year.
Unveiling a special plaque to commemorate the occasion, Professor Chris Brookes added: "I'd just like to say how deeply humbled I am; it is a huge honour to be able to open this Macmillan Palliative Care Hub.
"In my 40-year career in the NHS, I often had the privilege of providing care to patients in the last phase of their lives, and I always remember that quiet dignity of those patients, and their families at that difficult time. Often it was in an environment of noise, stress, and little privacy, so it's really heartening to hear and see that this place has been commissioned specially so that there's privacy, dignity and calm for patients."
Janette Sanders, who leads the team, said: "It has been a real team effort to get this hub up and running and now we're able to provide a much more improved patient experience and greater accessibility for those who need to visit us.
"The area we have now is peaceful and comfortable for both patients, their families and our staff and as our outpatient capacity has significantly increased, we can provide greater access and flexibility for support."
One outpatient who has benefitted from the support of the team and the facilities at the Hub is Walter Brown from Lowton.
Walter was diagnosed with the long-term condition, Chronic Obstructive Pulmonary Disease (COPD), around five years ago and has been a regular visitor to the COPD clinics at WWL.
He said: "I think the main thing is, is that someone is there for you, to be able to come in and sit down, and talk about things that are going on. The fact that someone's here and at the end of the phone is superb. It's support for people, not just me, but everyone who comes into contact with the team."
Professor Sanjay Arya, Medical Director at WWL, said: "It is wonderful to see this Macmillan Supportive and Palliative Care Hub finally opened. Every member of the team should be so proud of the work they do and the care and guidance they provide for our patients and their families."