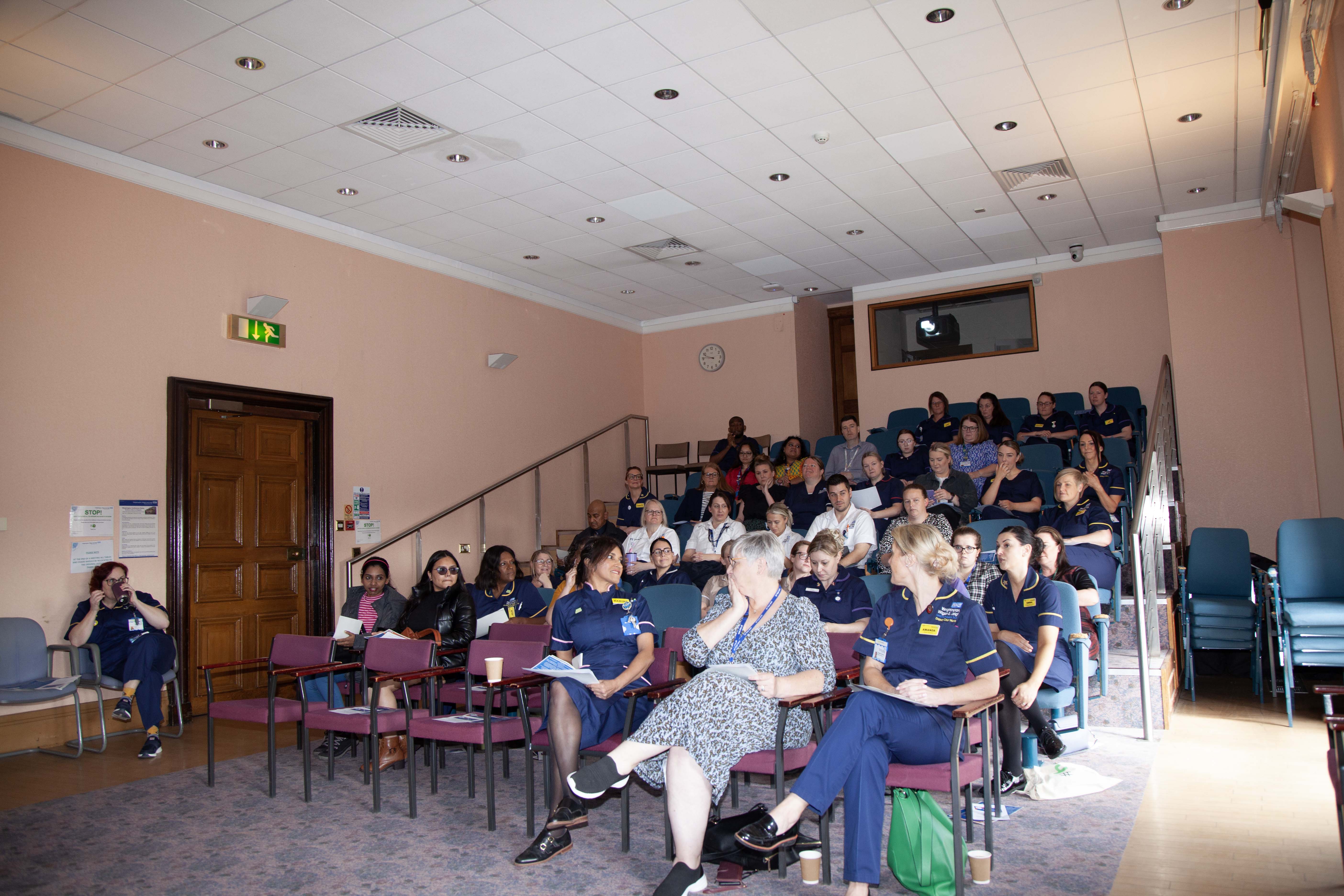 Colleagues from across Wrightington, Wigan and Leigh Teaching Hospitals NHS Foundation Trust (WWL) recently got together to celebrate the amazing work of nursing colleagues as part of this year's International Nurses Day.
WWL's celebration took place on Friday 12th May at Wrightington Hospital's Conference Centre with a series of talks taking place and various awards being presented to staff.
At the start of the celebration event Chief Nurse Rabina Tindale paid tribute to nursing colleagues saying: "I would like to take this opportunity to thank you for everything you do, every day you go above and beyond to provide safe, compassionate and expert care to our patients and I am so proud to call you my colleagues.
"I'd like to thank all of our Nurses for your continued support, especially during the recent challenges you have encountered in the face of extreme pressures.
"Always remember the positive impact your work has and how important you are to each other, your WWL colleagues, our patients and the wider Wigan Borough."
A number of staff members were recognised for their outstanding contributions over the last 12 months, and these included the winners of the following awards:
Unregistered Nurse of the Year – Jenny Watson
Learner of the Year – Neelesh Patel
Nurse Associate of the Year – Louise Chadwick
Nurse of the Year – Stevie Copland
Nurse Leader of the Year – Alison Murphy
Karen Downs Award for Innovation – The Virtual Ward Team
A series of talks also took place during the day with focus placed on our International Nurses, dementia care, nursing apprenticeships, research in nursing and the role of Associate Nurses.
Out in our local community, people of all ages also got involved to celebrate the outstanding work of our Nurses and to thank them for the care they provide.
Children from Aspull Church Primary School designed thank you cards and sent them to WWL Nurses to mark International Nurses Day. They also a created a beautiful wall of inspirational quotes which we have displayed for all staff to see.
Mrs Anna Ganley, Deputy Headteacher at Aspull Church Primary School spoke on why the school wanted to show their appreciation for the work of WWL's Nurses saying: "As a school we wanted to acknowledge and celebrate the NHS, especially on International Nurses Day.
"Our school vision is about 'making a difference' in the world and we want to celebrate the valuable difference Nurses make.
"We showed our appreciation with cards and pictures alongside teaching the children about Florence Nightingale and the incredible work Nurses still do today."
Rebecca McCarren, WWL's Divisional Director of Nursing, liaised with the school to help organise their thankyou letters and inspirational artwork and passed on her appreciation to the school pupils: "It's amazing to see school children in our local community wanting to celebrate the work of our Nurses as part of International Nurses Day. The efforts of the children brought huge smiles to the faces of our nursing workforce who were touched by the gesture.
"Our Nurses work tirelessly to provide the excellent standard of care that members of our community expect when they attend any of our sites.
"They deserve every bit of thanks and praise they receive from our patients and their peers and every one of us at WWL is extremely grateful for all the work they do."