Virtual Fracture Clinic
What is the Virtual Fracture Clinic?
The virtual fracture clinic is designed to have a patient centred approach to your care. It is a way of delivering an early Consultant Orthopaedic Surgeon opinion for common fractures. It allows an early recognition of the fracture and the appropriate investigations or management to be delivered in a swift and efficient manner.
The aim of the Wrightington, Wigan and Leigh Virtual Fracture Clinic is to get an early assessment and to deliver the right care to the patient earlier.
What is involved with the Virtual Fracture Clinic ?
Following the injury the patient presents to the Emergency Department and if appropriate will be referred to the Virtual Fracture Clinic. Your details and xrays are then reviewed by the Virtual Fracture Clinic team and it is decided where and when the patient should be seen. Following the Virtual Fracture Clinic, the patients will go to one of the following 3 pathways:
Seeing an Orthopaedic Surgeon
Seeing an Orthopaedic Physiotherapist
Discharged back to GP with a letter and a phone call from the team
Who is in the Virtual fracture Clinic Team ?
The Virtual Fracture Clinic is a multi-disciplinary approach. It involves Nurses, Physiotherapists, Secretaries and a Consultant Orthopaedic Surgeon.
The Patient Journey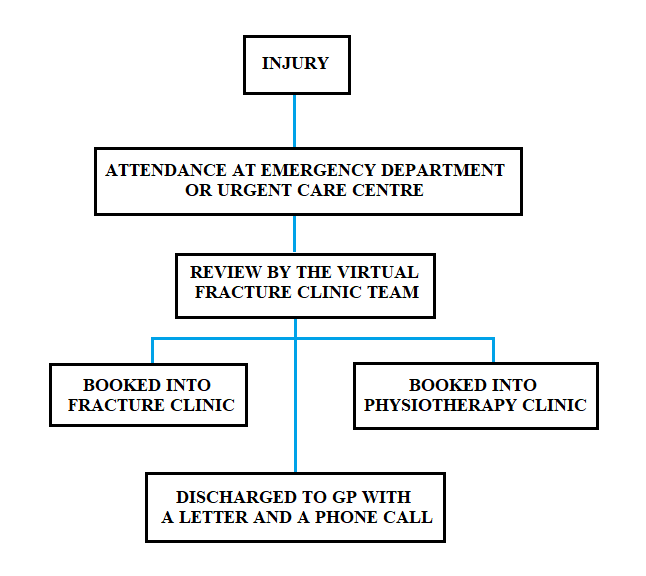 As the clinic is virtual you do not need to attend the review. Your clinical notes and xrays will be reviewed by the team. You will then get a letter sent through the post by the Orthopaedic Consultant and a telephone call by the team. Any questions or concerns can be addressed over the telephone.
Feedback
If you have any feedback on the Virtual Fracture Clinic and would like to share your comments with us, please email patient.relations@wwl.nhs.uk.